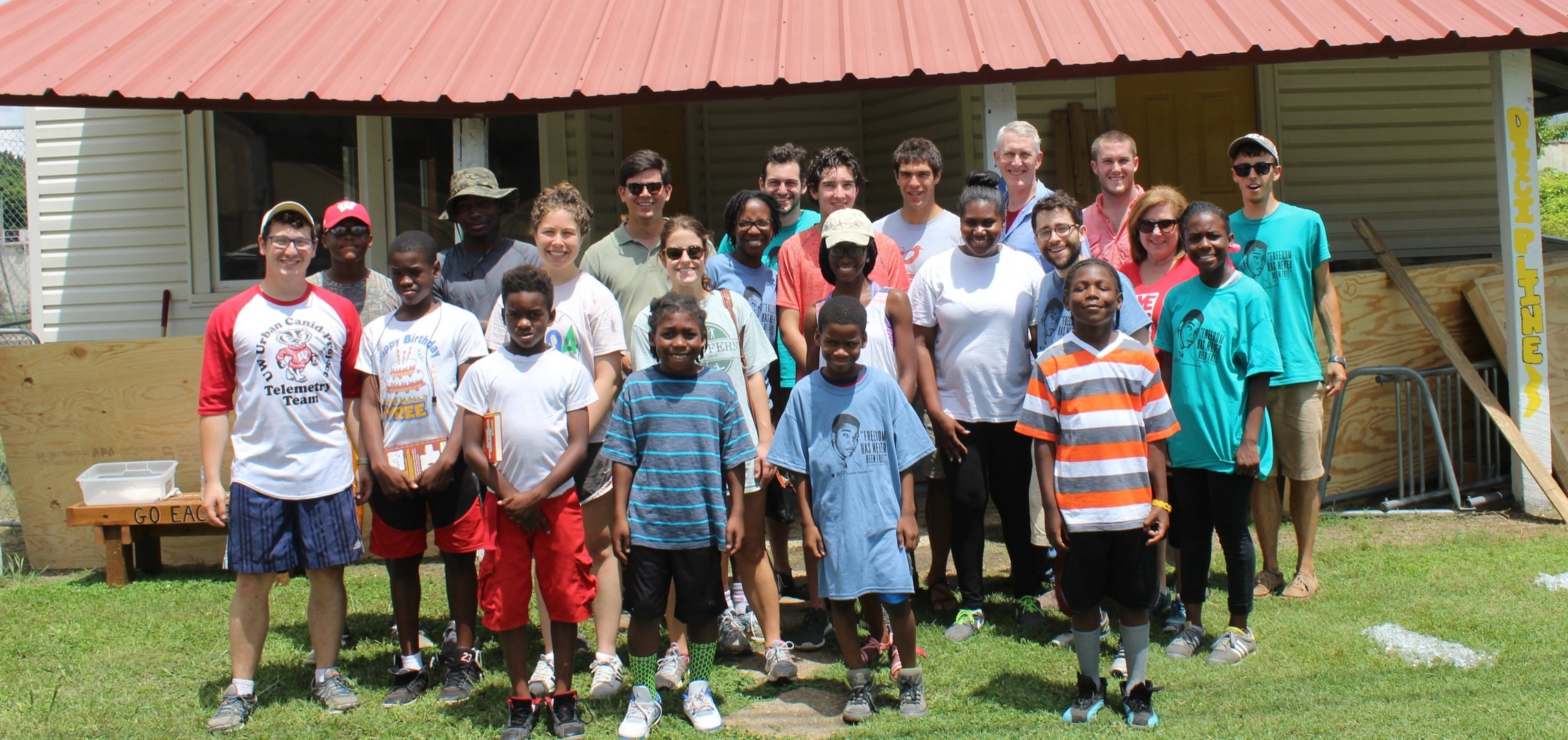 The Rosedale Freedom Project in Rosedale, Mississippi is empowering a cohort of academically competitive, socially conscious young leaders prepared to work for the betterment of themselves, their community, and the world. We are working for a future in which our students are free to access whatever educational, creative, and professional opportunities they want to pursue, and are committed to promoting justice wherever they go.
Beginning in the summer after their sixth-grade year, our students, called Freedom Fellows, participate in a six-year fellowship in which they take on leadership roles by practicing the LEAD principles: Love, Education, Action, and Discipline. Through the practice of these principles, our Fellows work to build a radically restorative and loving community, to seek out learning opportunities inside and outside classrooms, to be proactive and engaged citizens, and to be disciplined in their minds and their bodies. Our Fellows engage with these principles during their summers as rising tenth, eleventh, and twelfth graders through our Freedom Summer Collegiate courses.
Each summer, Freedom Summer Collegiate instructors join our team and become integral parts of our work with Freedom Fellows. The hard work of our grad student instructors inspires our Fellows to explore new fields of study, chase down their curiosities, and dedicate themselves fully to their intellectual and practical pursuits. Through these courses our Fellows develop the critical thinking skills that will help them to be successful in college while our instructors' stories help our Fellows to imagine new possibilities for their own lives.
CHallenges
Students in Rosedale face many struggles. Students attend schools that are still heavily segregated by race (students at West Bolivar District High School are 98% Black/African-American) and socio-economic status (98% of students at the high school receive free- or reduced-price lunches). Students at the middle and high schools lack many of the opportunities enjoyed by their affluent, urban/suburban peers. Academically, many graduates of the Rosedale schools are not prepared for the ACT, a necessary test for college admission; the average ACT score in Rosedale is just above a 15. Some students have never traveled outside of Bolivar County, and many have not left the state. Furthermore, Rosedale students are rarely given a space to explore, create, and be inspired. The high school has no band or visual arts instructors. A lack of opportunity in the arts (music, poetry, drama) and the core academic subjects (English, Math, Science, ACT Prep) leaves students, many of whom have the talent to compete at the top colleges and universities in America, without chances to explore their talents, expand their opportunities, and become America's next leaders and innovators.
What COURSES WE'RE INTERESTED IN
The courses that have most excited our Fellows have focused on exploration and the pursuit of justice. Exploring and reimagining the world around them--through topics like anthropology, ecology, and psychology--sparks our Fellows' curiosity; reinterpreting and challenging the way that our society is ordered--through classes focused on sociology, political science, and history--empowers our Fellows to understand and reform their community. Courses that provide them with analytic tools that they can exercise in their everyday experience are directly empowering and allow Fellows to bring their summer learning far beyond the bounds of Freedom Summer. Whether enabling them to understand the relations between the flora and fauna on their walk to school or giving them the tools to reimagine the structure of their school, Freedom Summer Collegiate courses show students that intellectual pursuits are relevant to their lives.
Where You'd Live: CLEVELAND, Mississippi
Freedom Summer Collegiate instructors working in Rosedale typically live fifteen miles down Route 8 in Cleveland, Mississippi, a town of about 15,000. While still a rural town, Cleveland has more access to amenities like grocery stores, bars and restaurants, and gyms. Our instructors typically live together in houses in Cleveland and commute together to the Rosedale Freedom Project.
What's more, the cultural history of the Mississippi Delta, from the better known juke joints and hot tamales to the lesser known wildlife and history, is a site to see. Past instructors have enjoyed traveling to Clarksdale to watch local blues artists performing at Red's, hanging in Cleveland to visit Hey Joe's or Senator's Place, visiting Greenville to check out Mighty Mississippi Brewing Co., and crossing the river to enjoy Lake Chicot State Park. The deep Civil Rights history of the Delta, too--historic Mound Bayou, MS, and the Emmett Till Interpretive Center--have left a deep impression on visitors.